– Ghanaians To Pay For Goods And Services Via Mobile Phones
–  Zap Eco-system to enrich lives offering customers more flexibility and security in a multitude of transactions 24 hours a day
Tuesday 16 March, Accra – 'Zap', Zain's award winning mobile commerce service that allows customers to use their mobile phones like a mobile wallet to pay for goods and services and conduct banking services regardless of the type of handset they use, was launched today in Accra. Zap is a novel product that provides the most comprehensive and accessible package of m-commerce features currently available anywhere in the world.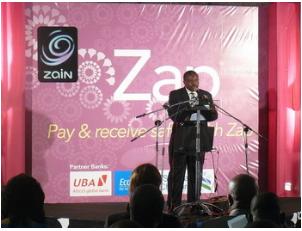 At the recent Global Mobile Awards in Barcelona, Zain was awarded the prestigious GSMA's 2010 'Mobile Money for the Unbanked Award' for the Zap service. The award is in recognition and appreciation of the efforts Zain has put in making mobile monetary transactions easy for all its customers.
Zain Ghana is the seventh Zain mobile operation to launch 'Zap' following the successful implementation of the service in Kenya, Malawi, Niger, Sierra Leone, Tanzania and Uganda.
Zap allows Zain customers to:
Pay bills and pay for goods and services
Receive and send money to friends and family
Top up your own airtime account or top up someone else's
And soon in the following weeks, customers will be able to:

Send and receive money to their bank accounts
Withdraw cash
Manage their bank accounts
In a statement made at the launch, Philip Sowah, Country Manager of Zain Ghana, stated,"Once again, Zain is creating a wonderful world where customers can move about freely with their mobile phones transacting on goods and services. Our aim is to create an eco-system where Zap enriches lives by providing customers with increased security and flexibility, reducing the need to carry cash. The positive economic and social effects on the community we serve will be abundant".
Zap Registration
Signing onto the Zap service is a simple and easy process. Customers will initially be required to register their personal details, with a valid photo ID card, at any of the Zain shops nationwide or with any of the partner banks like UBA, Standard Chartered Bank or Ecobank and their nationwide branches. Registering on to the service automatically registers the SIM card, which is currently a requirement by the NCA for telecom operators. Customers do not have to worry about opening a bank account before accessing the service as Zap does not rely on a bank account to operate.
Safety and Security
Zap is a safe and secure product, protected by a password that ensures that customers will not have to worry about their Zap account if they lose or damage their phones. The service is protected through a state-of-the-art security application and customers' money is always safe as a password is needed for every transaction carried out.
Unlike other mobile commerce products, Zap provides customers with increased security and flexibility, reducing the need to carry cash and ensuring prompt payments of bills, goods and services. The payment of utility bills will become much easier as customers will be able to pay from the comfort of their homes or offices. Zap services are only available to Zain customers. The uniqueness and convenience of the product allows customers to do all this without having to swap SIM cards or change their handset.
Currently 80% of the Ghanaian population is unbanked, a situation which has several disadvantages to it. Traditional financial services are either remote or unavailable and Zap will alleviate the challenge that people travelling to these remote areas experience just to send money to friends and families or to conduct business.
Zap and One Network
The distinctiveness of Zap is further enhanced as it is compatible with Zain's award winning 'One Network' platform, which allows all Zap customers to move freely across geographical borders and be treated as a local customer in any of the 22 'One Network' countries in terms of pricing. Furthermore, they retain home network service functionalities; they can access their Zap accounts, send/receive money and pay for goods and service exactly the same way as they can at home.
-ENDS-
About Zain
Zain Ghana is part of the Zain Group, a leading telecommunications operator across the Middle East and Africa providing mobile voice and data services to over 70 million active customers as at 30 September, 2009 with a commercial presence in 23 countries.
Zain operates in the following countries: Bahrain, Burkina Faso, Chad, the Republic of the Congo, the Democratic Republic of the Congo, Gabon, Ghana, Iraq, Jordan, Kenya, Kuwait, Malawi, Madagascar, Niger, Nigeria, Saudi Arabia, Sierra Leone, Sudan, Tanzania, Uganda and Zambia. In Lebanon, the company manages 'mtc-touch' on behalf of the government. In Morocco, Zain owns 31% of Wana Telecom through a joint venture.
Zain offers innovative services in its markets such as 'One Network', the world's first borderless mobile telecommunications network enabling customers when abroad to receive calls and sms without charge and to make voice and data calls at local rates throughout 22 countries in Africa and the Middle East. This service allows a customer to top up airtime in their home country or from more than 1,000,000 outlets within Zain's 'One Network' footprint.