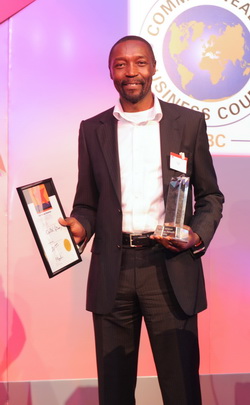 Zain subsidiary Celtel won the award for the Best Telecoms Operator in Africa at the prestigious 2008 Business in Africa Awards held in London recently, beating a host of other operators to win the award. The awards aimed at highlighting the growth and potential of the business landscape across Africa, while rewarding excellence and world-class best practices across the continent.
This prestigious event was attended by 500 government, business, and media leaders from across Africa, Europe, Asia and the USA. The evening represented an ideal and unique opportunity to give global visibility to world-class African brands.
Collecting the award for Zain, Tito Alai, Chief Commercial Officer for Zain Group commented "Zain places a huge emphasis on Africa in achieving its 2011 targets of being a top-ten global mobile operator with 110 million customers."
Alai further added, "This award is an achievement that represents our belief in the African continent and the potential that exists. Together with our partners and customers we are committed to building the African economic dream and developing telecommunications across the continent as no other telecom company has been able to do."
The awards were co-hosted by the Commonwealth Business Council (CBC) and African Business magazine. Notable VIPs such as Ephraim Inoni, Prime Minister of Cameroon; Bethuel Mosisili, Prime Minister of Lesotho; Senator Daggash, Nigeria's Minister of National Planning; Neville Isdell, Chairman of Coca Cola; and other prominent diplomats and businessmen presented the Awards to the winners in a festive and memorable African night.
About Celtel & Zain
Zain is a leading emerging markets player in the field of telecommunications aiming to become one of the top ten mobile groups in the world by 2011. Zain was established in 1983 in Kuwait as the region's first mobile operator. Since 2003, it has grown significantly becoming the 4th largest telecommunications company in the world in terms of geographic presence with a footprint in 22 countries spread across the Middle East and Africa providing mobile voice and data services to over 45.7 million active customers (as at 31 March 2008).
In the Middle East the company operates under the Zain brand name in Bahrain, Iraq, Jordan, Kuwait and Sudan. In Lebanon the company operates as mtc-touch. Zain plans to commence operations in the Kingdom of Saudi Arabia in 2008.
In Africa, Zain currently operates under the Celtel brand (www.celtel.com) in 14 sub-Saharan African countries namely: Burkina Faso, Chad, Democratic Republic of the Congo, the Republic of the Congo, Gabon, Kenya, Malawi, Madagascar, Niger, Nigeria, Sierra Leone, Tanzania, Uganda and Zambia. The company's mobile telecommunications operations in Ghana will begin in late 2008.
The Zain brand is wholly owned by Mobile Telecommunications Company KSC, which is listed on the Kuwait Stock Exchange (Stock ticker: ZAIN). The company had a market capitalization of over US$ 27 billion on 30 June, 2008.