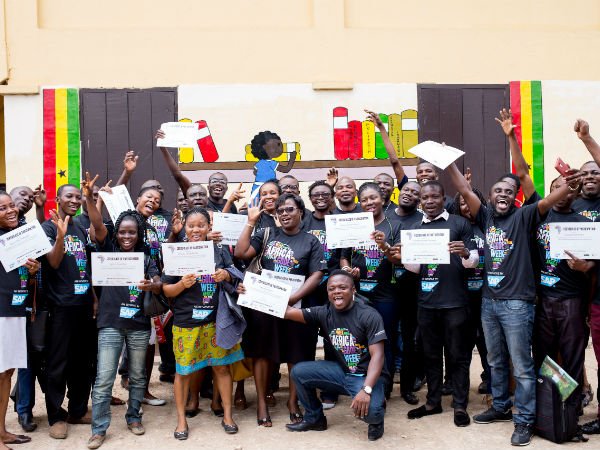 Over 560 teachers have taken part in this year's Africa Code Week (ACW) Train-the-Trainer workshops over four days in Accra and Kumasi as part of this year's efforts to drive 21st-century skills development among African youth.
ACW instils 21st-century skills among African youth with a key focus on sustainable capacity-building and female skills development and training. Now in its fourth year, the initiative is now actively supported by key partners UNESCO YouthMobile, Google and the German Federal Ministry for Economic Cooperation and Development (BMZ), 15 African governments, over 150 partners and 100 ambassadors across the continent.
Sunil Geness, Project Lead for Africa Code Week, said this year's programme allows for increased hours for teacher engagement to support improved local capacity building and the increased sustainability of the programme.
"Equipping local teachers with key skills and teaching materials to support the advancement of 21st-century skills development forms part of our organisation-wide commitment to realizing the ambitions of the UN Sustainable Development Goals (SDGs). Our curriculum is also focusing on going beyond only coding proficiency to fostering a deeper understanding of computational thinking and the possibilities of data science and analytics."
The Train-the-Trainer (TTT) sessions form a bedrock of ACW's sustainable impact across the continent by empowering teachers with skills and teaching materials that drive the advance of digital skills in the school curriculum. The sessions are critical to ACW which reach far beyond raising awareness of the importance of teaching digital skills to building capacity for sustainable impact, and the inclusion of coding in school curricula in partnership with schools and governments.
Ghana was the most active of all West African countries in the 2017 iteration of ACW, with more than 138,000 local youth taking part, half of which were girls. "Our objective is to empower 70 000 teachers and 2 million youth with 21st-century skills by 2020. The active support of governments and partners will play a critical role in ensuring Africa's youth is able to enjoy the benefits and opportunities of the 21st-century digital economy," said Geness.
Ghana's Minister of Education, Hon. Matthew Opoku Prempeh, said: "Our government is committed to improving access to education to all our students and have initiated projects such as the Secondary Education Improvement Project for Ghana to ensure all youth have access to quality education. Initiatives such as Africa Code Week and its Train-the-Trainer program supports our vision for an education system that provides relevant education that enables students to acquire relevant knowledge and skills to develop their potential."