Amazon has announced the launch of a new CloudFront edge location in Cape Town. The company made the announcement the Amazon Web Service Summit which took place at the Cape Town International Convention Centre on 12 July 2018.
According to Amazon Web Service, the benefits offered by CloudFront can be enjoyed by companies of all sizes, in any industry sector operating in Africa. AWS also announced their continued investment in skills development in Africa.
During his keynote address, Mike Clayville, Vice President of Worldwide Commercial Sales and Business Development, said "I am delighted today to announce a new location here in Cape Town. AWS continues to invest in Africa, we are so enthusiastic about the marketplace. We have thousands of engineers here in Cape Town and we have been investing in skills to do networking and advanced software as early as 2004."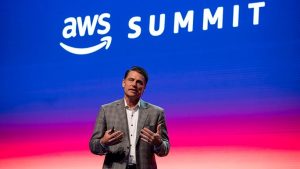 "This is a unique time in history, cloud computing will be perceived as the most important technology trend in the history of IT. We will look back at the times we're in right now and we will recognise how important the things that we're doing today are for transformation, our industry, our business and everything including Agritech, Fintech and health tech. This summit is to educate you about what is going on in the public cloud."
Clayville said that the company has customers across Africa ranging from big to small. From successful enterprises to emerging startups and globally dominating startups who are already leveraging their platform. "It is about how you take what we have and leverage it into unique business value and you find that companies in Africa are able to do that", he said.
Speaking on the company growth, Clayville said, "We are now on a $22 billion run rate and growing at 49 per cent year-on-year, this is unprecedented in tech and we are the first tech company to hit the $20 billion run rate. Clayville attributed the success to builders who have found the AWS platform useful in creating unique and interesting innovations. "Worldwide we have a million customers leveraging the platform every month. It's these million customers that drive financial performance that we have, he added."
AWS opened their first office in Africa and Cape Town in 2006. The company started a direct connect in 2017 which enables customers to connect their data centres with AWS data centre architectures. This year the company installed a Content Delivery Network (a pop location) in Johannesburg. The company is working with a variety of entrepreneurs and startups in mentoring programmes to help them gain critical business traction and a programme called AWS Activate that helps entrepreneurs get free credits so they can scale and grow.