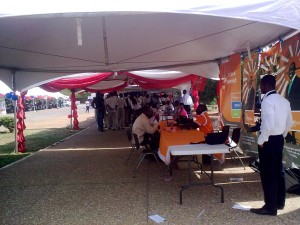 After over 18 months of "testing the waters", it appears eTranzact is finally warming-up for a mega launch in Ghana. They had a pre-launch activity last week tagged "e-village" where some of the technological giants in Ghana showcased their products/services. Aviation Social Centre in Accra was the venue and they also had a similar event in Kumasi.
The tech companies that exhibited included: Etranzact Ghana, UBA Ghana, iBurst Africa, Combert Impressions, SMSGH, Intercontinental Bank Ghana, busyinternet, etoys&more, AMADEUS.
eTranzact is an online real-time payment system that allows account holders to pay for goods and services purchased from merchants, transfer funds to any bank account, cell phone, any card, pay bills, order products e.t.c. This is possible because eTranzact allows cardholders to use any of the following channels to transact: web (using any internet browser in a secured transaction), mobile phones, POS terminals (Point of Sale), ATMs, or bank branches.
eTranzact Ghana is a subsidiary of eTranzact Global Limited. Their parent company has similar operations in Nigeria,  United Kingdom, United States, Zimbabwe and Cote d'Ivoire.
I was there and captured a few shots on my new Nokia 5800 XpressMusic for your viewing pleasure.