free2view is not exactly new – it has been in existence for years. They have been lurking in the shadows for a while now, but relaunched properly some months ago with a mission of capturing former GTV subscribers. Before now, free2view had been at loggerheads with ICASA, South Africa's regulatory body in charge of broadcasting, post and telecommunication.
The Independent Communications Authority of South Africa (Icasa) warned that if the UK based free-to-air broadcaster continued operating without a licence it could block Free2View's satellite signal or take other action.
free2view has since surmounted that challenge and positioned itself for a brilliant future. The service is unlike your typical free-to-air digital satellite TV service. While the service is free-of-charge, the signals are encrypted. Thus, one would need to procure their own decoder or buy a voucher for a GTV decoder, to be able to enjoy their free TV/radio channels.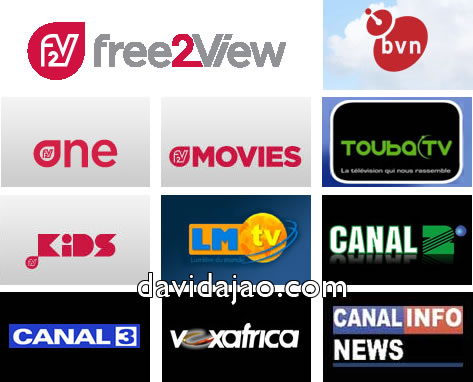 When GBS/GTV abruptly exited the market in January 2009, they left some 180,000 subscribers in Africa high and dry. The same number of GTV decoders were rendered useless since those decoders were custom-made for GTV. However, free2view found a way to make those decoders useful again. They simply required the old GTV subscribers to buy a free2View Switchon Voucher for activation, and point their satellite dish towards Astra 4A at 4.8°E. The GTV decoder would then download a software update before linking up to the free2view service.
The following statement from their website explains their mission:
free2View is a free–to–consumer encrypted digital satellite Broadcaster.  We're the largest Free to Air satellite Broadcaster in Africa with an estimated population footprint of 850 million people and a known base of 50 million TV households – excluding Nigeria – where there is a further estimated 50 Million TV households.

The demise of the Pay TV operator GTV in Sub Saharan Africa left a dilemma. f2V as the free–to–air element of the box – with its news channel MSNBC – was aware of the disruption and great disadvantage suffered by the people of Africa – in particular East Africa, who after buying a box – and in some instances paying large sums of money in Subscription fees in advance – were now disenfranchised. It was f2V's determination that this would not happen again. The poor should not always pay.

We have subsequently turned this dilemma into a huge opportunity. With the directors firm belief in free–to–air television, f2V is set about finding a way for the GTV boxes to be reused. With the help of our strategic partner NDS, a method was created.

f2V now owns the technology providing the head end and encryption methodology . We are able to address all 180 000 ex GTV subscribers. The viewer now has the ability with a once–off purchase, in the form of a Switchon voucher , to re–open their old GTV box. Viewers are now able to watch the best of Digital Satellite TV as well as many other community and state broadcast channels we know are important to our audience, in their native tongue, be it English, French, Portuguese, Dutch or Swahili.

The encrypted feed now enables f2V to offer premium digital satellite television for free. We have therefore included content from the BBC, ITV, Freemantle and much, much more…

It was and remains the objective of free2View to provide the best Digital Satellite TV for FREE . No Monthly Bills, No Subscription, No Contract. Just FREE Digital Satellite TV.
free2view is aiming to offer 4 different bouquets: f2VBasic, f2V+2, f2V+3 and f2V+5. However, it doesn't seem like all is well with free2view. Of their 4 bouquets, only f2VBasic is active and even with that, 4 of the channels are currently off-air:
f2V One: the latest soaps, drama, action and movies. (currently off air)
Canal 2: Canal 2 International (Cameroon) is a French entertainment channel specifically targeting African and Caribbean communities.
Canal 3 Benin
Vox Africa
BVN: a Dutch public TV station
Canal Info News: The French news service from West Africa
f2V Movies: blockbuster movies (currently off air)
f2V Kids: cartoons (currently off air)
LMTV: General Entertainment Christian value channel with popular programs such as House, CSI Miami. The channel is broadcast in French.
Touba TV: a senegalise TV service (currently off air)
SwitchSat is the official online supplier and distributor of Free2View decoders, both the original GTV decoder as well as the new KAON decoder for all Sub–Saharan African countries. You would need to contact them for the original GTV decoder, the new KAON decoder or SwitchOn vouchers.
free2view is powered by a UK-based company known as Great Media.