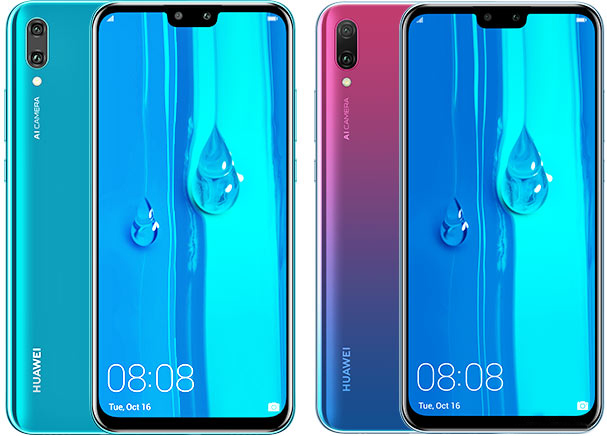 Huawei Technologies has unveiled its latest smartphone that features a 6.5" Display Screen and Quad Cameras equipped with the latest AI technology.
The new smartphone features a 6.5" FullView Display, 4000 mAh Battery, latest innovative Four Artificial Intelligence (AI) Cameras, Face Unlock, 64GB and the powerful Kirin 710 SoC exudes outstanding craftsmanship and premium quality.
The high screen to body ratio brings the bezel-less experience. The 3D curved design enables a comfortable sleek design, so users can experience cinematic-level visuals and smoother control. The delicate appearance and trendy colours of the HUAWEI Y9 2019 are elegant yet stylish and can be used by everyone.
The HUAWEI Y9 is equipped with a 4000mAh big battery, providing 52 hours of call, or 9 hours of videos, or 9 hours of gaming, or 65 hours of music, or 14 hours of webpage browsing, bringing users a longer enjoyment experience with long-lasting endurance. Besides the impressive FullView Display and Battery capacity, HUAWEI Y9 also features 4 camera's that have the latest Artificial Intelligence (AI).
The camera's AI technology can intelligently recognize scenes and is trained to see more than 500 scene types by creating 22 category labels to provide real-time optimization guaranteeing you the most stunning pictures.
The HUAWEI Y9 Specifications
SIZE
Width: 75.3 mm
Height: 157.2 mm
Depth: 7.89 mm
Weight: about 170 g
*Product size, product weight, and related specifications are theoretical values only. Actual measurements between individual products may vary. All specifications are subject to the actual product.
COLOUR
DISPLAY
CHIPSET
OPERATING SYSTEM
MEMORY
3 GB + 32 GB*
*Due to limitations in CPU processing power, memory used by the operating system and pre-installed applications, the actual space available to users may be less than the stated memory capacity. Actual memory space may change due to application updates, user operations, and other related factors.
NETWORK
FLA-LX1
LTE FDD / WCDMA / GSM
FLA-LX2
TD-LTE / LTE FDD / WCDMA / GSM
FLA-LX3
LTE FDD / WCDMA / GSM
GPS
CONNECTIVITY
Bluetooth, Micro USB, Wi-Fi Direct, Wi-Fi Hot Spot
SENSORS
Accelerometer
Proximity sensor
Ambient light sensor
Compass
Fingerprint sensor
CAMERA
FLA-LX1
Rear camera: 13 MP + 2 MP
Front camera: 8 MP + 2 MP
FLA-LX2
Rear camera: 13 MP + 2 MP
Front camera: 16 MP + 2 MP
FLA-LX3
Rear camera: 13 MP + 2 MP
Front camera: 8 MP + 2 MP
EMUI
BATTERY
4000 mAh*
*Typical value. Actual capacity may vary slightly.
This capacity is the nominal battery capacity. The actual battery capacity for each individual phone may be slightly above or below the nominal battery capacity.
IN THE BOX
Handset x 1, Charger x 1, USB Cable x 1, Quick Start Guide x 1, Eject tool x 1