I have been inundated recently with requests about how to add new channels to the Multi TV decoder. The bottomline is, a new service was launched earlier this year on Astra 2B. Astra 2B is the same satellite that beams Multi TV's signals to West Africa. Since Infinity TV is currently on test transmission phase, their signals are unscrambled and thus Multi TV users with the right settings can enjoy Infinity TV service, for now. This is not restricted to Multi TV subscribers. Anyone within the footprints of Astra 2B's West Africa beam with an MPEG4-compatible decoder and a satellite dish pointed towards Astra 2B at 28.2°E would be able to receive infinity tv.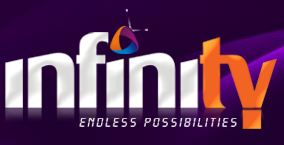 A press release announcing the service in September 2009 read in part:
Pathfinder Launches Premium DTH Service across Nigeria with SES WORLD SKIES

Uniquely positioned to enable the rapid expansion of television broadcast services across Africa, SES WORLD SKIES, a division of SES S.A., today announced Pathfinder Communications has signed a multi-transponder, multi-year deal to deliver its new Infinity TV package over the ASTRA 2B satellite to homes throughout Nigeria.

Pathfinder has secured two full Ku-band transponders to deliver its premium DTH lineup, which offers 45 channels of movies, music, sports, lifestyle, news and children's programming.
Since Infinity TV is still in testing transmission phase, the following channels are subject to change:
Click – a cartoon channel targeted at children
Movie Express – a movie channel focused on western genres
Kilonsele – a cultural channel focused on Yoruba language
Springboard – musicals, talk shows, electronic tutorials, comedies, dramas, quizzes etc all aimed at the youth
Infinity Sports – a sports channel
Voxafrica Africa – a Pan-African, bilingual and independent TV channel
LoveWorld Plus – a Christian faith and lifestyle channel
African Movie Channel – a channel focused on movies from Nollywood, Nigeria's movie industry
Setanta Africa – an international sports channel
Odenigbo – a movies and lifestyle channel in Igbo language
Considering the current phase, do not be disappointed that some of the channels broadcast certain movies in a constant loop.
There is no harm in enjoying the free service while it lasts. If you are currently watching Multi TV channels, simply enter the following parameters to your Multi TV decoder to enjoy Infinity TV:
Frequency: 12543
Symbol rate: 20800
Polarization: Horizontal
Re-scan your Multi TV decoder after entering the parameters.
If you need a detailed help with the steps, read: How to add more TV & Radio channels to your Multi TV decoder. If you are using an MPEG4 decoder that supports blind scan, simply scan your decoder to reveal Infinity TV.
Enjoy the free channels while they last…