Competition is good. It not only keeps prices down but also keeps innovation up. For close to a decade, SAT3 (a submarine cable system) was the lone player in the fibre internet connectivity marketplace for West Africa. Things have changed in recent times. The commercial launch of MainOne (another submarine cable system that currently connects Ghana & Nigeria to Europe) is rapidly changing internet connectivity in Ghana and Nigeria. With 10 times more capacity than SAT3, MainOne is poised to shake-up internet connectivity in West Africa. Already, the revolution has began.
The MainOne Cable is owned by MainOne Cable Company Mauritius; a pan-African company that has built a private sector led international telecommunications highway between West Africa and the rest of the world, via Portugal. With fibre optic cable licenses in Nigeria and Ghana, MainOne is aiming to be the preferred wholesale international bandwidth provider in Africa.
Since the commercial launch of MainOne in July 2010, the market especially in Nigeria has been witnessing a drastic improvement. For a start, the following Internet Service Providers (ISPs) in Nigeria have connected to the MainOne submarine cable system: ipNX, MTN, Netcom, etisalat, Starcomms, Galaxy Backbone, Vdt Communications and Swift Network. The ISPs are now able to offer improved connectivity to their clients.
Steven Evans, CEO of Etisalat Nigeria, had this to say about Etisalat's connection to MainOne in July 2010:
"submarine fibre optic cable will enhance Etisalat's broadband capacity thus leading to improved data services to the benefit of our customers. Our subscription to the new technology is a demonstration of our commitment to delivery of superior service, which we are known for globally. Our customers remain the core of our business hence we are always keen to deploy the best technology available for their advantage."
The changes have not been limited to improved connectivity alone. The tariffs are already dropping.
MTN, the biggest telecommunications network in Nigeria that offers internet connectivity nationwide using varying technologies, has recently been announcing reduction in its internet connection tariffs for its mobile users. MTN has not only reduced its pricing, but has also increased the data limits on its data bundles by up to 40% whilst introducing new Weekend and Daytime data plans. MTN's BlackBerry users have not been left out of the party. MTN recently announced a new "promotional" tariff cut via SMS:
You can now stay connected on your BlackBerry for less. MTN offers you BIS weekly for N1,000 & BIS monthly for N3,000
Things are taking shape albeit slowly, in Ghana as well. Ecoband offers connectivity solutions to ISPs and Data Network Operators in West Africa, from its base in Accra Ghana. The company recently connected to MainOne and announced in late October 2010:
Ecoband activated STM-1 service on the new MainOne submarine fibre optic cable connecting Nigeria and Ghana with the Internet backbone in Europe. This makes Ecoband the first ISP and data network operator in Ghana to benefit from the new state of the art technology deployed by the MainOne Cable Company connecting Ghana with under 100ms RTT delay to Europe.
Some 3 ISPs in Ghana make use of Ecoband's connectivity solutions: BusyInternet, MTN, and Teledata ICT. Though tariff cuts have not been announced, subscribers of any of the ISPs can already experience the improved connectivity. It is to be noted that BusyInternet has been advertising an "improved capacity" on Facebook.com in recent times, targetted at residents of Ghana, in a bid to earn more of the market pie.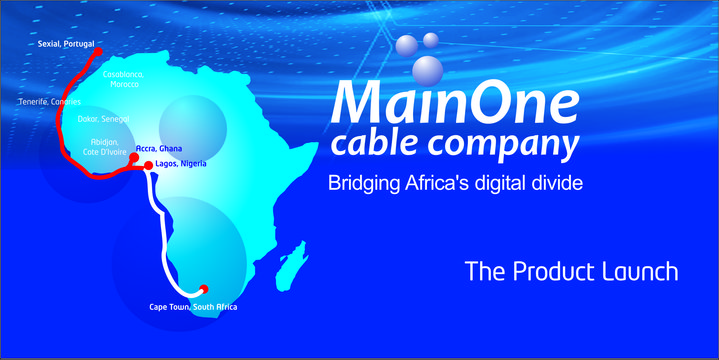 The operators of SAT3 submarine cable in Ghana have already reacted to the threat poised by MainOne, by reducing their pricing by as much as 53%. In a report recently published by Business & Financial Times (B&FT):
The National Communication Backbone Company (NCBC) has reduced the wholesale prices at which it sells international and national bandwidth capacity to Internet Service Providers (ISP) by half as other international bandwidth providers enter the market, B&FT has gathered.

NCBC, which manages the SAT3 on behalf of Vodafone and the national broadband fibre-optic cable, has since the beginning of this month dropped the US$4,500 price tag at which it sells el (2megabites) to ISPs to US$2,100.

Additionally, the average national bandwidth price has also dropped by about 53% amidst fears the existing carriers may lose customers ahead of the new cables landing in the country.

The reductions follow an announcement by MainOne Cable, a new entrant to the international bandwidth market, that it sells the same capacity of e1 for US$1,050.
As more ISPs join the MainOne submarine cable system, one only can expect market forces to push down the cost of Internet connectivity in West Africa since there is now much more bandwidth to go round.