Vodafone launched its Blackberry services a few weeks ago, targetted at individuals, small businesses and large enterprises in Ghana. The telco announced BlackBerry service packages that were different from that of its main competitors – MTN and Zain.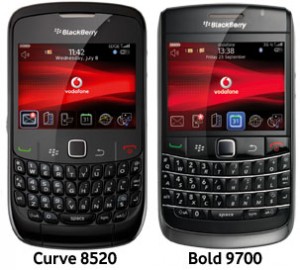 Currently, both MTN and Zain offer very similar BlackBerry services. They both offer a flat monthly fee. The visible difference lies in their tariff: while Zain charges 35 GHc per month, MTN charges 40 GHc per month. They both offer push email, Facebook, Twitter, BlackBerry Messenger etc as well as varying 3.5G network coverage across Ghana.
Granted that Vodafone's monthly charge at 45 GHc per month is higher than that of the competition, and that Vodafone does not offer 3.5G network coverage anywhere in Ghana at this time, their flexible packages make their BlackBerry offer more attractive.
Flexible plans
Vodafone offers 3 distinct BlackBerry plans:
Daily rate: this goes for 5 GHc and comes with a 150MB data limit.
Weekly rate: this goes for 15 GHc and comes with a 750MB data limit.
Monthly rate: this is the main course. It comes with 2.5GB data limit for a 45 GHc monthly fee and is bundled with 100 minutes to all phone networks in Ghana as well as 50 SMS to all local networks.
Although MTN's monthly billing for the BlackBerry service is pro-rated, Vodafone's flexible packages still offer more cost savings to those who do not need the service every day of the month.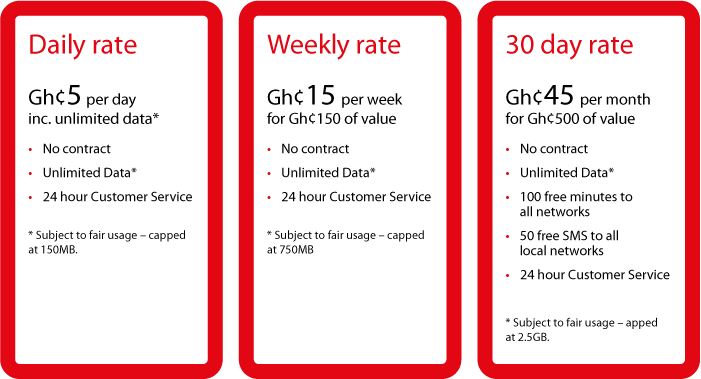 Bundled services worth 500 GHc?
Vodafone claims their the Monthly package priced at 45 GHc offers a 500 GHc value. This is suspicious, at best.
One can excuse their lavish use of the words "free" and "unlimited", as part of "marketing" but an arithmetic look at their offer does not give an insight into the aclaimed 500 GHc value. Let's work it out together.
Zain offers 30 days of BlackBerry Internet Service without bundled calls and SMS for 35 GHc. Both Zain and Vodafone currently offer prepaid subscribers calls to any network in Ghana, at 8 GH pesewas per minute. 100 minutes of call on either networks therefore amounts to 8 GH Cedis. Vodafone prices network SMS at 4 GH Pesewas. 50 SMS messages would therefore cost 2 GH cedis.
In essence, 35 + (0.08 x 100) + (0.04 x 50) = 35 + 8 + 2 = 45. Where is the saving? Where lies that 500 GHc value, dear Vodafone?
Granted that much of BlackBerry traffic is compressed and so, flows quite well even on an EDGE network, Vodafone should necessarily offer lower tariffs relative to MTN & Zain since both competitors offer much faster 3.5G networks in urban areas of Ghana.
Since mobile telecoms is a very competitive industry in Ghana, one can only except MTN and Zain to respond to the assault by Vodafone, and also reduce their BIS tariffs. With the launch of new submarine cables (for carrying voice and data traffic from Ghana to the rest of the world and vice versa), one expects the BlackBerry monthly tariffs would necessarily drop, and still offer more value.