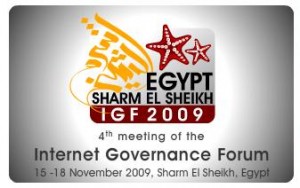 I am participating remotely in the Internet Governance Forum (IGF) 2009 currently going on in Egypt, from Accra. The Accra remote hub participation is under the theme "Internet Governance – Creating Opportunities for Ghana".
Promoting IPv6 adoption in Ghana: An important step towards bridging the digital divide was presented by Ivy Tuffour of AITI-KACE.
I spoke on ccTLD (.gh domain names) and how to get people using them.
Cyber crime in Ghana: How to tackle the menace was presented by Charles Nelson of "Youth Against Cyber Crime".
The venue is Ghana India Kofi Annan Centre of Excellence in ICT (AITI-KACE) between today 16th and 18th November 2009 from 8:00am to 4:00pm daily.