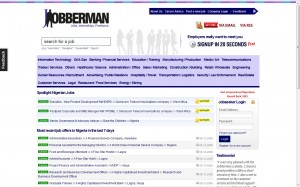 With a population of about 154,729,000 (UN estimate), Nigeria ranks as the 8th most populous country in the world. Add the fact that a sizeable percentage of this population is made-up of the youth, plus Africa's 2nd largest economy (GDP nominal) and what you have is a very vibrant job market. It is thus not much of a surprise that a whole industry exists with the sole purpose of servicing the job market. Examples include: HR consultancy firms, HR recruiters, HR trainers etc.
Technology has however made it possible for the processing of finding jobs to be more sophisticated. Many job seekers and recruiters in Nigeria now rely on the Internet to find that dream job or ideal candidate. It is thus not much of a surprise that there are tens of Nigerian job websites, ready to search the Human Resource industry. Job websites is very lucrative in Nigeria, due to the high-demand by the millions of job seekers.
One of the latest Nigerian job websites is jobberman.com From the website:
Jobberman.com is an online career portal in Nigeria. We place a high premium on Job search that is relevant and up-to-the-minute.  The market opportunity is exciting; Nigeria is a large country, large working population, and internationally growing. Our long-term goal is simple: to be the 'go-to' company for the industry. We don't only offer job information services, we are here to build careers.
Jobberman.com appears to be more than an average Nigerian job website. It is intuitive and blazingly fast. It is also loaded with features including:
Search: A well-placed search box enables users to search for jobs by entering the type of job or location.
Tags: A list of tags displaying the most popular industries makes it easier to find job listing in the appropriate industry. Examples of the industries: Information Technology, Oil & Gas, Banking / Financial Services, Education / Training,  Manufacturing / Production,  Media / Art,  Telecommunications etc.
Filter: The job listings can be filtered further by selecting fulltime, intern or freelance
Subscription: Job seekers can subscribe to the RSS feed or via email to follow-up on job openings as they are published. It is important to point out that subscribing to the website via email could be overwhelming as every job listing would be emailed. A better email tool that enables job seekers to subscriber to relevant job types only is available for job seekers that register.
Easy listing: Potential employers can submit job openings easily, without having to register with the option of allowing online applications. That would explain the large number of job listings on the website already despite it being new.
Easy job application: Where the hiring firm enables online application, job seekers can apply right on the job listing page and can also upload their CV.
Social media friendly: buttons exist under every job listing that make sharing via Facebook, Twitter, Google etc fast and easy.
Easy registration: Job seekers have to register to enjoy the full functionalities of the website. Registration requires only First Name, Last Name and an Email address. A password is immediately emailed to the job seeker once registration is completed. The job seeker can later enter other details including a CV.
Career advice: Jobberman's blog is populated with useful tips and career advice for job seekers. This boast the website's relevance to Nigerians.
Free service: Unlike some other Nigerian job websites, neither hiring firms nor job seekers have to pay to use jobberman.com It is presently an ad-supported service i.e. the website owners gain revenue from advert placements on the website.
At the time of writing, 655 companies have listed 2,064 job openings. Jobberman.com clearly has lots of potential for growth, considering that the service offered is free-of-charge. One can only hope the website owners have a good business model that can sustain the free service for a long time to come.