Accra 28th May 2009 –    DStv Mobile from MTN now makes it possible for MTN  customers to tune in to their favourite DStv channels on their mobile handsets. This innovation is a result of a collaboration between MTN, DMTV and Nokia.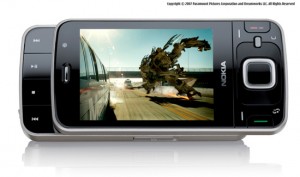 With DStv Mobile from MTN innovation, 11 channel bouquet are available including Africa Magic, SuperSport, Cartoon Network, BBC & CNN which are currently only accessible through television sets can now be easily accessed   by MTN customers in Accra & Tema on their mobile phone
The  DStv Mobile from MTN was launched at an impressive ceremony at Rhapsody in the Accra Mall to introduce the latest innovation from MTN to  customers and the public.
The launch of the DStv Mobile from MTN follows a chain of exciting services and products launched by MTN since the beginning of 2009.
Some of the innovative products include the community phone aimed at ensuring that MTN subscribers reach their relations in the remotest areas of Ghana with the MTN experience. The 3.5G technology was also introduced services like Video Calling which enables customers to see people they talk to as well as things they need to see, others are the MTN Mobile Broadband & MTN Loaded. The 3.5 G product was introduced with a variety of features to provide enhanced mobile telephony for MTN customers There was also the new network code, 054, to enable more people join the MTN family.
MTN Mobile TV has been introduced at a time when the world is looking forward to South Africa 2010 with much excitement. The prospects of seeing the beautiful game on mobile handsets increases the  thrill for the forthcoming global soccer event.
As the lead sponsor of, South Africa 2010 MTN is working to bring the soccer fiesta as close to its customers as possible. The  DStv Mobile from MTM, a service which transforms mobile phones into a mobile TV enable football lovers follow every detail of the event conveniently via their phone.
In a message to Ghanaian MTN customers CEO of Digital Mobile Television International DMTV Francois Theron expressed his excitement about the introduction of the Mobile TV in Ghana. He said plans are underway to ensure that subscribers get the best available and relevant programmes.  He added that "In a few weeks we will show all the matches of the 2009 Confederations Cup and later this year in August we will show LIVE matches of the English Premier League."
The General Manager for Nokia West and Central Africa, Mark Pritchard, also said that Nokia is especially pleased to work together with DMTV and MTN, to offer consumers 12 months access to DSTV Mobile when they purchase a compatible handset.  He said some of the compatible handsets are Nokia N96 and N77, Nokia N79, N85, N86, N97, E75 and 5800.
MTN would continue partnering with strategic stakeholders and experts like these to bring innovative products and world class telecommunications to Ghana.
MTN continues to lead with even more innovative products for the benefit of our cherished customers and the public.