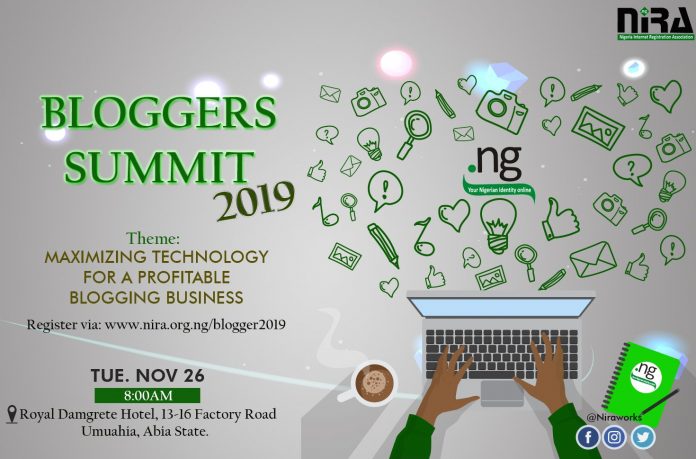 The Nigeria Internet Registration Association (NiRA) has announced that the 2019 NiRA Bloggers Summit will hold in Abia State, Nigeria.
The one-day Summit, which will be a gathering of bloggers, aspiring bloggers, journalists, content developers, media entrepreneurs and stakeholders within the internet community, is scheduled to hold on Tuesday 26th November 2019 from 9:00 am to 3:30 pm at Royal Damgrete Hotel, 13-16 Factory Road, GRA, Umuahia, Abia State.
Themed "Maximizing Technology to Build Profitable Blogging Businesses", The Summit will bring bloggers and content developers together to interact, develop and improve not only their blogging skills but also their content, business management and technical skills.
According to NiRA, the objectives of the summit are to:
Encourage stellar online behaviour within the internet and blogging community by providing legal, ethical and technical training.
Stimulate the industry by ensuring that Bloggers develop and publish content relevant to society and around burning issues such as Internet Governance.
Encourage responsible journalism through blogging – create job and wealth opportunities for Nigerians.
Recall that NiRA organised the first edition of the Bloggers Summit in Lagos last year. The event had participants from the Nigerian blogosphere. There were interactive sessions and sessions on monetizing blogs. For this year's edition, NiRA invites other stakeholders and sponsors to be a part of the Summit.

Interested participants can register here.