PayPal has extended its online payment system to Nigeria, Belarus, Macedonia, Moldova, Montenegro, Monaco, Cameroon, Cote d'Ivoire, Zimbabwe, and Paraguay for the first time. Before now, these countries were completely blocked from the party. Credit/Debit cards from these countries were not allowed on the payment gateway either.
Nigeria being the largest e-commerce market in Africa is most likely to have the most significant impact on PayPal as loads of merchants and consumers had been itching for years to have PayPal extend its services to Nigeria.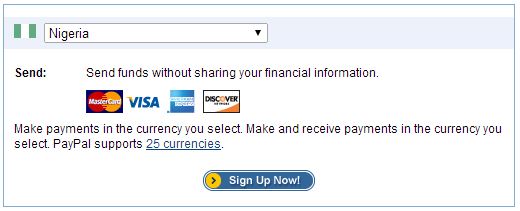 The big caveat though, is that PayPal accounts opened by residents of Nigeria can only send funds. They are unable to receive funds. Also, Nigeria Naira is not available on PayPal. Thus, users in Nigeria are compelled to transact in US Dollars. This is hardly surprising considering Naira is not a convertible currency.
Before now, some persistent Nigerians had found ways of opening PayPal accounts despite the service being unavailable officially.
It is noteworthy that a few African countries are able to send and receive money via PayPal. These include South Africa, Kenya, Botswana, Morocco. PayPal typically partners with local banks in these countries, to facilitate the funds' withdrawal. For example, it partners with FNB in South Africa and Equity Bank in Kenya.
Considering mega-banks in Nigeria like GTBank, First Bank, Zenith Bank and Ecobank are among the biggest in the world, it is easy to assume merchants in Nigeria would be able to receive funds via PayPal soon enough.
PayPal is not available to residents of Ghana yet. Ghana, with a population of about 25 million people, is a leading economy in West Africa.