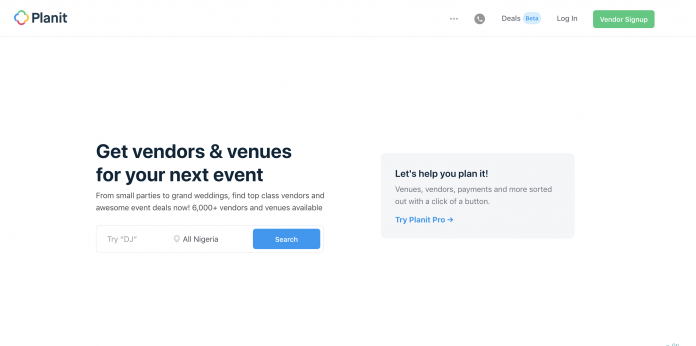 Planit.ng is an all-round event services platform that seeks to create an easier event-planning process, end-to-end. The company offers a platform where people can search and hire event vendors from all states in Nigeria. It has also built other services from this base including their concierge service, Planit Pro
The company currently operates nation-wide and has over 6,000 vendors from over 30 states in Nigeria and in the 3rd quarter of 2019, handled over 1,000 client requests for its vendors. It has also experimented on a premium vendor subscription as a monetization model but for now, it's choosing to focus on the base marketplace as well as the Deals service. Using the pricing data from its vendors, the company built the first version of the Nigerian wedding cost calculator, WeddingCost.ng.
A partnership with a venue-booking service, RentYourHall is in its early stages and they plan on working more with them to boost their mutual offering.
Planit was co-founded June 2018 by Nkenu Timothy – previously co-founded RentHostels, a now-defunct student accommodation site in Uganda, currently also working in the User Operations team at Paystack, and Ugochukwu Nneji – previously co-founded the now-defunct forum, Yarnme.com.ng. CTO.
While speaking with TECH dot AFRICA exclusively, Nkenu Timothy listed some of the challenges the company has faced thus far.
Quality assurance – ensuring that vendors' profiles provide as much detail as possible and that the quality is great
While the demand side of the platform is growing, we still feel we can do much more
Funding issues – We don't have as much capital to fully push the product as we'd want to
Commenting on the changes the company has gone through since inception, said Timothy said:
One of the core changes we've made to the platform has been shifting from an in-platform messaging system to a call-a-vendor system. The system we currently have sends the customer's number to the vendor (via SMS) as well as send the vendor's number to the customer. So, we are able to accurately gather analytics and follow up with both parties.

This means that in the short term, we aren't monetizing each individual vendor booking on the site. How we instead plan on monetizing:
Commissions from vendors on the concierge service, Planit Pro (planit.ng/pro)
Premium vendor subscription (we tested this out  3 months ago and plan to further push this next year)
Commissions from Planit Deals (planit.ng/deals)
Commissions from venues booked on Planit (we're working on our Planit Venues feature in partnership with RentYourHall.com)
Our in-the-works escrow service
We're still working on a viable monetization model for individual vendor bookings and will experiment quite a bit next year.
"In five years, we see ourselves as to the go-to place for all-related event services in Nigeria (and hopefully, a few other countries as well). This means whether you just want to get small chops for lunch, or plan a wedding or a concert, you'll be able to do that from the Planit platform without needing to go elsewhere."