President of Nigeria, Goodluck Jonathan, has been making waves among the young Nigerian populace on social networking website Facebook in recent times. Through a Facebook page opened on 28th June 2010, he has systematically been sharing his belief in Nigeria and his dream for Nigeria. Things seem to be looking very good for him so far. For a page unleashed barely a week ago, he has done tremendously well with followership as he has already attracted 65,783 people at the time of writing. On 28th June 2010, he wrote:
Today, in fulfillment of the promise I made at the 26th convocation of the University of Port Harcourt on Saturday, 15 May 2010, I have created a facebook fan page to interact with Nigerians. As I said on that day, there is an unchallengeable power of good in the Nigerian nation and her youth and through this medium I want Nigerians to give me the privilege of relating with them without the trappings of office. GEJ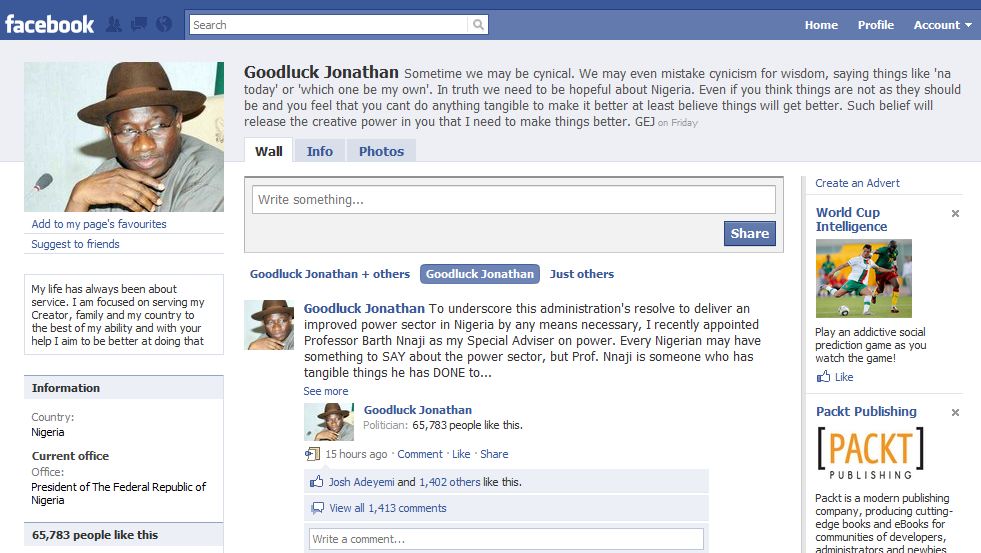 Not only are his brief messages read with rapid attention, but thousands of Nigerians are freely giving their feedback to his messages as well. Much as his messages potray him as a humble man with a genuine drive to serve his country Nigeria, it obvious that this is a calculated attempt to win the heart and minds of Nigerians who are active on Facebook, in a bid to secure electoral victory to continue in the Office of the President of Nigeria after Election 2011. Whilst there is nothing wrong with him standing to be elected or with him driving his way into the hearts of Nigerians, one cannot help wondering if any drastic & positive change can really come out of his party – People's Democratic Party (PDP).
Yesterday 3rd July 2010, President Jonathan wrote on his Facebook page and I quote:
I want to assure you that your feedback and comments on this page are important. I read them and they have influenced government's policy. On Monday, a young Nigerian named Tuokpe Onuwaje who is resident in California made a comment on this page expressing disappointment that though California has the 7th largest economy in the world Nigeria does not have a consulate there yet we maintain one in Atlanta, Georgia which has a smaller economy. This youth further informed me that Nigeria had a property in California which was abandoned in the 80s. Upon receipt of this information, I instructed the Nigerian Ambassador to the U.S to visit the property immediately and report back to me with a view to reopening our consulate in San Francisco California. I am pleased to tell Tuokpe Onuwaje and all fans of this page that the visit was concluded today. I am also looking at other request made here and will within available resources and time take action or respond to your questions. Thank you. GEJ
An objective mind would ask how much a Facebook page launched less than a week ago could have influenced his government's policies. One can overlook it and understand that a man eager to win a Presidential election would say & do just about anything. After all, then-candidate Barack Obama said so many lofty things when he was seeking election and now seems much more moderate now that he is in the hot seat and drowned by reality. As good as President Jonathan's intentions might be, some of his recent actions do not leave one convinced that he is out to influence any radical change in Nigeria. How does one explain some of the funny characters he would soon be decorating with national honours?
Nonetheless, his attempt to reach out to Nigerians directly is laudable. If only he would keep reading as many comments as time would allow, he would surely be on the right path as he would be reading directly from some of the people he is leading. I am assuming he has a mind that can mentally filter out the sycophantic comments though. As to the sustainability or his real intentions, time would tell.