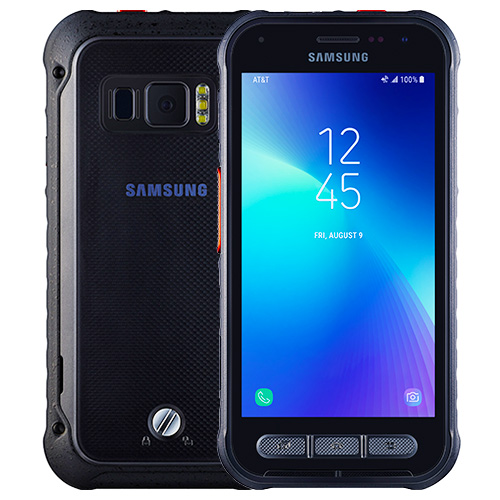 Samsung has introduced a new rugged smartphone at the International Association of Chiefs of Police Conference.
The latest of Samsung's field-ready devices, the Samsung Galaxy XCover FieldPro is purpose-built, equipped with Push-to-Talk capability, and keeps information storage compliant and secure. Its features make it suited for use by a wide range of enterprise customers — from federal agencies and local precincts to transportation professionals, field service technicians, and more.
XCover FieldPro front"We know from talking to our customers who work in physically demanding environments that durability, reliability, and power are necessities in the products they use," said Sandra Krief, Vice President, Carrier Sales and Channel Management, Mobile B2B, Samsung Electronics America. "We designed Galaxy XCover FieldPro with that in mind, and take it a step further by offering the industry's only open, collaborative, and secure mobility platform. Our customers, whether first responders or factory workers, benefit from a level of customization that is truly unparalleled."
Galaxy XCover FieldPro is designed to be effective and tough no matter the circumstances.XCover FieldPro back highlights include:
Rugged enough for the harshest conditions. With MIL-STD-810G1 and IP682 certifications, XCover FieldPro can survive almost anything, from drops, shocks and vibrations to extreme temperatures, rain, blowing dust and even a half-hour in five-foot-deep water.
Powered to last the day.
It's powered by a 4,500mAh battery, which can be swapped in the field with the second battery included in the package. There are also exposed pogo pins to allow it to charge from a docking station.
Built for first response, designed for flexibility. XCover FieldPro includes the top features first responders need while in the field. Dedicated physical push-to-talk and emergency request buttons are programmable to send location data or alerts and can be activated whether wearing gloves or in adverse weather conditions. The device is also Band 14- enabled for dedicated emergency response communications.
Secure and Compliant. The defence-grade Samsung Knox security platform is CJIS, HIPAA and FIPS compliant and is also certified for use by the federal government, based on standards set by the National Information Assurance Partnership. XCover FieldPro uses an ergonomic rear fingerprint scanner for biometric authentication.
The device also features unique customization capabilities that define Samsung's enterprise solutions, including Knox Manage and Knox Configure, and open compatibility with diverse third-party software, apps, and hardware to fit the one of a kind needs of Samsung users.