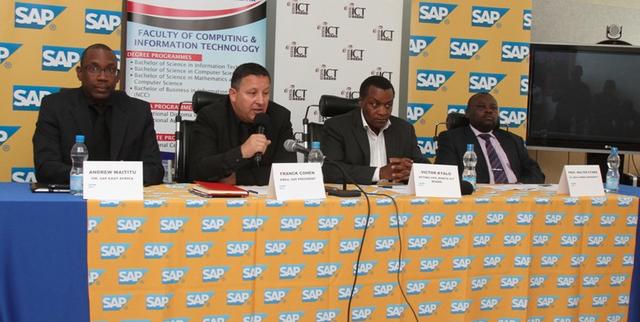 SAP Skills for Africa this week kicked off its first-ever programme in Nigeria at an orientation event held in Lagos. SAP Skills for Africa has trained more than 590 graduates since its inception in 2012, providing public and private sector organisations with critical digital skills aimed at driving digital transformation and growth in key economic hubs across the continent.
Pedro Guerreiro, Managing Director West Africa at SAP Africa, says the first SAP Skills for Africa programme in Nigeria leverages off strong partnerships with the public and private sectors in the country. "SAP works extensively with public and private sector partners to facilitate digital transformation and enable local communities to take advantage of the possibilities of exponential technologies."
"With Africa's largest youth population, Nigeria is perfectly placed to enable its workforce to become active contributors to the country's economic growth and prosperity. The entry of one of our most successful skills development initiatives will make a timely contribution to the development of Africa's most populous country."
A 2015 World Bank report identified access to quality education as the main determinant of skills development among Nigeria's workers. The report recommended that the role of the private sector be expanded to facilitate greater skills development in the country.
SAP Skills for Africa aims to contribute to sustainable workplaces for the next generation of local talent by training and certifying young graduate students in SAP's powerful suite of software solutions. The program provides a fast-track to a local or regional career by equipping students with technical and soft skills during a three-month full-time training schedule focusing on SAP's latest innovations.
The Nigeria programme will focus on SAP S/4HANA Financial Accounting and SAP Activate Project Management modules, with successful graduates receiving two certifications upon completion of their training. "All 22 graduates will have an opportunity to be placed at one of the chosen partner organisations to fast-track their careers in the ICT field," says Guerreiro. "By combining latest SAP knowledge and certification with in-demand soft skills, our graduates will be able to bring immediate value to our partner businesses."
Started in 2012, SAP Skills for Africa has added essential digital skills to organisations in South Africa, Morocco and Kenya. The program is part of SAP's ongoing commitment to closing the skills gap and runs beyond Africa, in a total of 21 countries across the globe, as SAP's Young Professional Program, with more than 2000 graduates globally. In 2016, SAP Skills for Africa received global recognition by winning the Hasso Plattner Founder's Award, the highest accolade awarded by SAP.