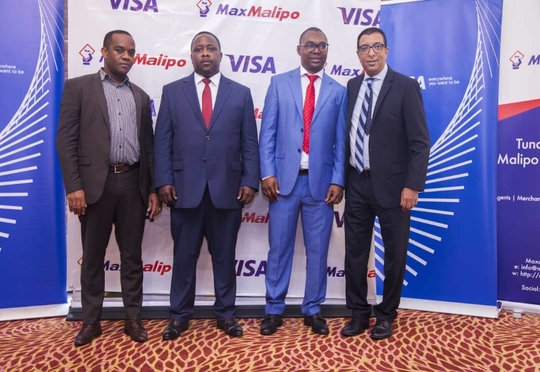 Visa has announced a strategic partnership with Maxcom Africa PLC – a merchant aggregator also known as Maxmalipo – that will enable more than 30,000 retailers in Tanzania to accept Visa on mobile payments, as well as 20,000 local agents to conduct cash deposits and withdrawals.
The development comes after Visa's success in Kenya where the solution was launched in partnership with Barclays Bank, Cooperative Bank, Ecobank, Family Bank, KCB Bank, National Bank of Kenya, NIC Bank, Prime Bank, and Standard Chartered Bank.
According to Visa General Manager for East Africa, Sunny Walia, "Our partnership with Maxcom Africa will ensure that Tanzanians can pay using Visa on their mobiles at over 30,000 new retailers. This partnership reinforces Visa's commitment to expand mobile payments acceptance worldwide. We are rolling out this strategic partnership as we lay the foundation in the Tanzanian market for an upcoming launch of Visa on mobile." said
Maxcom Africa, a local Tanzanian-owned company that is better known as Maxmalipo, aims to provide a simple, secure and reliable way for individuals and businesses to make and accept payments in Tanzania. Maxcom Africa works with local merchants and banks to help local businesses accept online and mobile payments through built-in secure, encrypted protocols. Maxcom Africa also offers point of sale payments, online and agency services through a mobile app paired with a card-processing terminal.
"Our core aim is to help businesses provide their customers with a variety of payment options to transact seamlessly and securely on their mobile devices. Integrating Visa on Mobile enables us to offer more flexibility when our customers transact online, at a physical point of sale or at bank agents. This partnership is timely as it fulfils the need for safe modes of cashless payments by our consumers and merchants," said Maxcom Africa Director General, Jameson Kasati.
Maxcom currently provides e-payment services on utility payments, transport sector, health and insurance, financial services and merchant payment services. Visa has approved Maxcom Africa as an innovative partner with secured platforms to fulfil the financial inclusion agenda in Tanzania.
Visa on mobile enables consumers to access their funds directly from their bank accounts via their mobile banking app to pay merchants, send money to individuals, as well as deposit, or withdraw cash at any Visa agent.