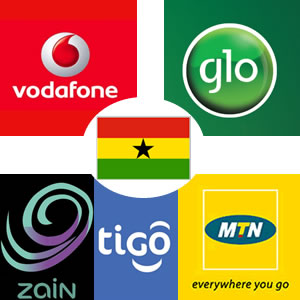 With the entry of international telecoms giant Vodafone into the Ghanaian telecoms industry, things would never be the same again. Matter-of-fact, the telecoms industry is very exciting at this time because Ghana is the meeting point of some African and international telecoms giants: MTN, Tigo, Vodafone, Zain, and soon-to-launch Glo Mobile. The main thrust of my writing at this time is to highlight their recent efforts to sign-on new customers and keep existing ones.
Zain Ghana; a loud entry, a sophisticated network
It all started with the entry of Zain in the 4th quarter of 2008. Zain had already done their homework very well and launched a very sophisticated network. They have the financial muscle to announce their new brand loudly and they did that with maximum effect. Before then, no operator had given MTN Ghana (the present market-leader) serious competition like Zain has. Zain launched the first 3.5G network (supports very fast Internet connectivity, video calling etc) in Ghana and MTN was scrambling to catch-up. Though Zain's 3.5G network is presently limited to Accra, Tema and Kumasi, EDGE (faster than GPRS) is available where their 3.5G doesn't cover. Perhaps it is an endorsement of the quality offered by Zain that makes it the fastest growing network in Ghana today. Zain presently has in excess of 1 million subscribers, according to media reports. I did a comparative analysis of Zain and MTN at Mobile Africa, a few months ago.
The latest stunt is their "Live Your Dream" promo, that is offering various cash rewards to subscribers. The aim – from my point of view – is to get subscribers to use more and more airtime thereby driving Zain's revenue upwards. The biggest of the cash rewards is a whopping GHc75,000 (about US$50,000).
Vodafone Ghana; a migration to excellence, an obscene promo
Vodafone is widely known to be a world-class telecommunications company. One can only expect the very best from them, following their take-over of Ghana Telecom and its Onetouch subsidiary. Vodafone also made a lot of noise with its launch into Ghana earlier this year. They announced having made improvements to the cellular and fixed line networks before launch. I am unable to verify their claims as I do not use Vodafone's mobile service. The service from the Vodafone fixed phone I use has remained the same. Their tagline after re-branding into Vodafone is "A network that works" – obviously in an effort to woo subscribers who are fed-up with poor services from other cellular networks. Vodafone is also growing fast and report to have added 800,000 more subscribers to their network.
The latest stunt from Vodafone is something I consider obscene.
Vodafone Ghana Launches Biggest Promo Ever
21 July 2009

Vodafone has launched the biggest promotion ever in the history of telecommunications in Ghana for its prepaid mobile and land line users.

The 1 million dollar* grand prize comprises of a 4-bedroom fully furnished Trasacco Valley house, a Mitsubishi Pajero 4X4 vehicle with a complimentary driver for 3 months and 12 months free high speed Vodafone Broadband internet connection plus land line.

Vodafone customers also stand the chance of winning a Mitsubishi Pajero 4X4 vehicle, Yamaha DT 125 Motorcycles, 2-year educational scholarships, Dell Inspiron laptops, Vodafone branded iPod Shuffles, Vodafone branded phones and loads of bonus airtime in two random draws, which will be shown live on TV.

The promotion, called "Vodafone Rewards", is Vodafone's way of saying "thank you" to all its valued customers for continuing to use its products and services.
*emphasis mine
One cannot help but conclude that this is a direct response to Zain's Live Your Dream promo. Both promos are similar but that of Vodafone is on a much larger scale.
MTN Ghana; scrambling to stay on top
MTN has always been a market leader in Ghana. From when the network was branded Spacefon, Areeba and finally MTN, they always stood out with their wide network coverage and numerous value-added services. Being the first digital cellular network in Ghana, the high quality offered by their GSM technology attracted many people to them. Scancom Ghana Limited (the company behind MTN in Ghana) is one of the biggest companies in Ghana and their cellular network has the most subscribers.
MTN has been very busy since the entry of Zain and Vodafone.
MTN has since launched a new network code to enable them add more subscribers
launched a 3.5 network that allows fast Internet and video calling
launched "seamless roaming" – a service that allows free roaming into Benin, Nigeria and Cameroon for MTN Ghana subscribers
launched a web recharge service
launched a Mobile TV service in collaboration with DSTV that is still in the test phase
and would be rolling-out a money transfer service known as MTN MobileMoney, today 22nd July 2009.
MTN has not announced any plans for a promo but I bet they will do so soon if history is anything to go by.
Tigo Ghana; the 4th factor?
Tigo grew out of Mobitel Ghana. Mobitel is the first cellular network in Ghana. It launched way back in 1992. As a result of their slow innovation, Spacefon (now MTN) that launched in 1995 seized the baton from them. Tigo played second fiddle to MTN for years. With the entry of Zain and Vodafone, I suspect that Tigo is now playing "4th fiddle".
Their TV ads have increased drastically and they make noise about being a network that actually works. They have promos that encourage old subscribers to get back on board and another that offers 10 to 20% discounts on call rates to faithful subscribers.
Glo Mobile Ghana; delayed, charged for action
Glo is a market leader in its home country – Nigeria. Glo revolutionized the telecoms industry in Nigeria with lower tariffs and even more value-added services. Though they won a licence through a closely-contested bid to run a cellular network over a year ago, their roll-out in Ghana had been delayed by bureaucracy from the Environmental Protection Agency (EPA). Having obtained the clearance to erect radio masts from EPA recently, I am sure they are constructing their masts across Ghana, aggressively. Despite their achievement in Nigeria, I am sceptical about how they can make headway in Ghana since the market is already heavily dominated by international giants. One trump card Glo Mobile Ghana has is their parent company's submarine cable (Glo-1) that links West Africa to the UK. It promises gigantic Internet bandwidth. Can they translate this gold mine into cash? Time will tell.