At Combit Africa 2009, I gave a presentation on The impact of submarine connectivity on West Africa's web hosting industry. The premise of the presentation was simple. The presence of more submarine fibre connectivity in West Africa would give birth to commercial data centres in the sub-region. At this time, an overwhelming majority of West African websites are hosted on servers located in North America and Western Europe. Poor internet connectivity and poor power supply do not make a commercial data centre in West Africa, economically viable and thus overshadow the technical advantages a local data centre offers.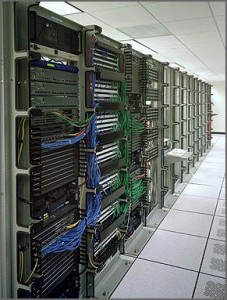 With the presence of 3 active submarine fibre connectivity into West Africa, one of the key factors for a local commercial data centre is taken care of and since power is a bit stable in Ghana, it makes economic sense to locate such a data centre in Ghana. The only data centres that exist in the West African sub-region at this time are mostly privately owned and managed by large enterprises for their internal use only.
A company simply identifying itself as West Africa Data Centres is taken the bold step to launch the first commercial large-scale data centre, in West Africa. In their own words:
West Africa Data Centres is opening its first data centre in Accra in 2011. We will be the first commercial carrier-neutral co-location facility serving the entire west African region.

WADC is a private consortium of established international investors who are living and based in Ghana.
Of course, one wouldn't expect the pricing to be comparable to what's currently offered in North America but the presence of this new data centre would be a major milestone for the local market as websites/applications hosted on it would be delivered much faster and with greater efficiency. Existing businesses that host their own applications can outsource some of their applications to the data centre thus saving on cost. I expect that with competition, pricing would be reviewed downwardly.