I am now headed back to my abode after a day at The Palms Shopping Mall in Lekki Nigeria. I had stumbled on a Facebook update from MainOne Cable just yesterday offering free broadband via Wi-Fi and so this dawn, I set-off to take "undue" advantage of the free broadband service.
I was more excited with the potential speed, than it being a freebie. You see, Main One is a submarine cable system that carries gigabytes of data from Europe to West Africa and so, I expected their connectivity (without going through MTN or another ISPs that use them) to be an extreme experience. In plain English, MainOne is an ISP's ISP. So, I went to the mall with very high expectations.
I got to the mall around 8am and surprisingly, the MainOne booth was already opened and "manned" by a charming lady. She offered to assist me connect my laptop to the MainOne wi-fi network and even pointed me to a good sitting location. I later settled into a fine restaurant within the mall, soaking-up the broadband. MainOne had gone through the trouble to make sure every part of the mall was covered by their wi-fi signals and so one could enjoy the obscene internet speed from virtually any corner.
The speed met my expectations. I commenced downloading all the stuff I had always differed. With 3 heavy downloads in progress, I still got the results you see from the screen-shot below. I used a London-based server for the internet speed test.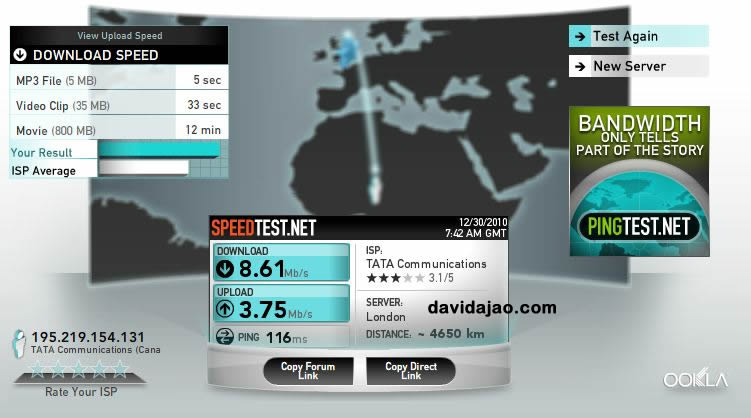 Just to be triple sure, I initiated a video call to a friend in Malaysia via Skype. Though we could not talk much due to the noise around me, he confirmed the video was very smooth. Youtube videos (including HD versions) streamed smoothly for me today.
A few annoyances though:
My Blackberry and (later) my Nokia 5800 XM could not detect MainOne's wi-fi signal. Consequently, I could not experience the broadband on my smartphones. I was initially able to download some a podcast on the 5800 XM but that started failing after I upgraded the Operating System on the smartphone.
The connection went off every hour or there about, and I had to always reconnect via my browser. I reckon this was their lame method of enforcing their "2 hour limit".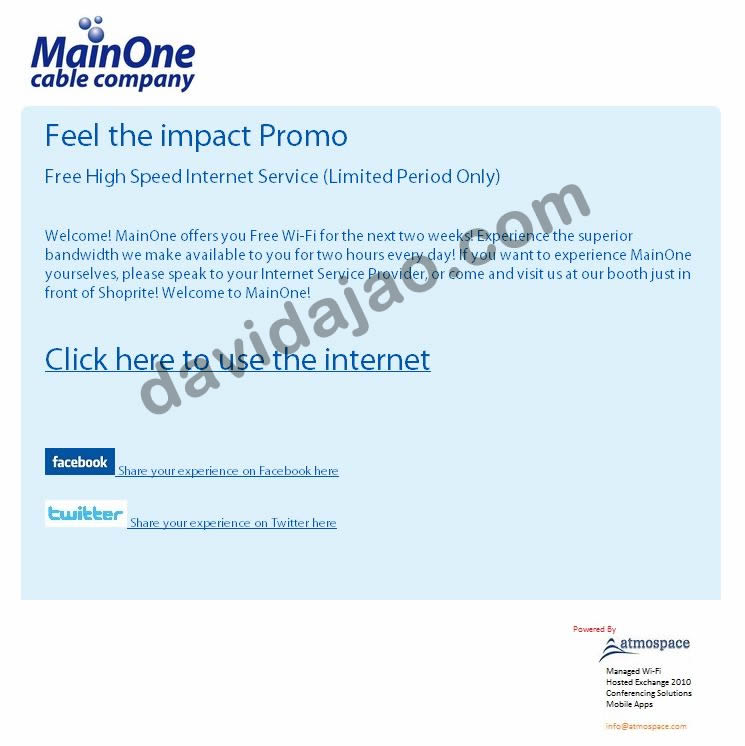 The annoyances aside, the speed was worth the trouble.
I know MainOne has been active for a few months now but using their connectivity via Internet Service Providers (ISPs) like MTN, Etisalat, Starcomms etc meant one had to suffer cellular network bottlenecks and be limited to the maximum speed limits offered by the cellular services. Example? I was able to download content at a steady speed of 2 MB/s (with two other downloads in progress) on MainOne's wi-fi but the maximum (unsteady) speed I can get downloading via MTN's 3.5G service is about 0.48 MB/s.
The free broadband party which started since 27th December 2010 is available till 9th January 2011.
Conclusion: the ISPs necessarily need to invest in better last mile technologies or improve their existing networks so consumers can enjoy the real broadband that is possible via MainOne. I know of Mobitel's 4G and Swift's WiMax but both have limited coverage.
Sidenote: I met the vociferous Osita (Oo) Nwoye for the first time today. He was also there to soak the MainOne broadband with every part of his body. We had intense conversations about the .ng top-level domain name system, and internet entrepreneurship in Nigeria generally.