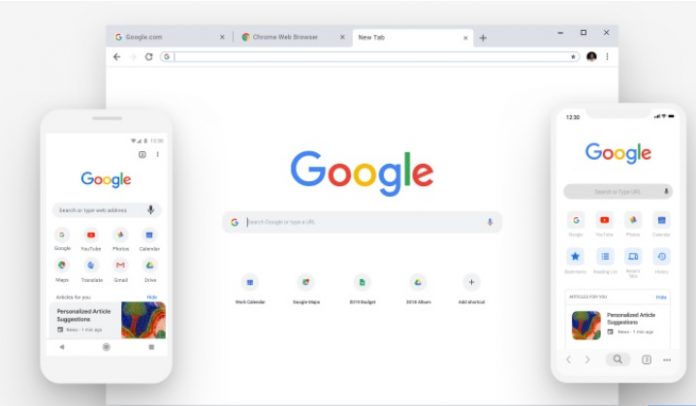 Ten years after its launch, Google Chrome browser is getting a new look and features. The first version of Google Chrome was released on September 2nd, 2008, and in honour of its tenth birthday, and the new UI is being rolled out across desktop operating systems, Android, and iOS. According to the Google Blog post on the subject, the biggest of the new features are the new design, how the address bar works, better password management, and a speedier experience.
In terms of the new look, Chrome has gotten round tabs and a more rounded look overall. It also got a new colour palette and updated icons to match the new aesthetic. Tab shapes have been changed up so that the website icons are easier to see, making it easier to navigate between a multitude of open tabs. Mobile browsing has also been made faster by moving the toolbar to the bottom on iOS where it's easier to reach. Prompts, menus, and even the URLs in the address bar have been simplified.

"You get a lot done online these days—booking travel and appointments, shopping and working through your to-do lists across multiple sites at once. And we want to make sure that you can do all of those things easily and safely. Now, Chrome can more accurately fill in your passwords, addresses, and credit card numbers, so that you can breeze through online checkout forms. All this information is saved to your Google account, and can also now be accessed directly from the Chrome toolbar." Google said in a blog post.
"We've also significantly improved the way Chrome handles passwords. Staying secure on the web means using strong and unique passwords for every different site. When it's time to create a new password, Chrome will now generate one for you (so you're not using your puppy's name for all of your passwords anymore). Chrome will save it, and next time you sign in, it'll be there, on both your laptop and phone."
The Search/Address bar at the top of Chrome, also know as the Omnibox, is designed to produce search results as fast as possible. With the new update, it's even more convenient to use because it now shows answers directly in the address bar without having to open a new tab. It produces richer search results in an instant. You can also search for a website and if it's already open in a tab somewhere, you can simply click "Switch to tab".
A new ad blocker was launched to keep you safe from malicious and annoying ads, the web was moved to HTTPS to keep you secure online, site isolation was launched to provide deeper defence against many types of attacks including Spectre, and VR and AR browsing were brought to Chrome. Google is also working on improving Chrome's startup time, latency, usage of memory, and usability. There's also the addition of Chrome Dino, the new password manager, but more on that soon.