The Nokia N9 introduces an innovative new design where the home key is replaced by a simple gesture: a swipe. Whenever you're in an application, swiping from the edge of the display takes you home.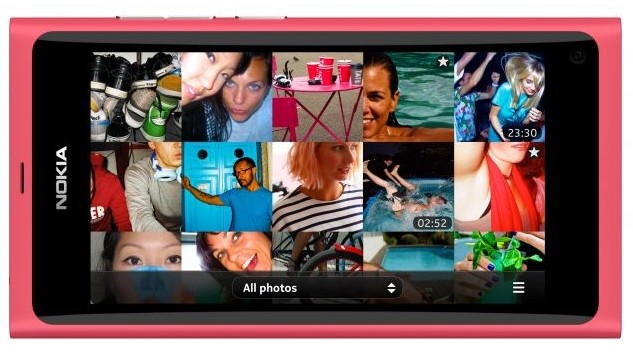 The three home views of the user interface are designed to give fast access to the most important things people do with a phone: using apps, staying up to date with notifications and social networks, and switching between activities.
The industrial design of the Nokia N9 is an example of extreme product making and craft. The body is precision-machined from a single piece of polycarbonate and flows seamlessly into beautiful curved glass. The laminated deep black display means that the user interface just floats on the surface of the product.
The Nokia N9 also packs the latest in camera, navigation and audio technology for a great all-round experience.
"With the Nokia N9, we wanted to design a better way to use a phone. To do this we innovated in the design of the hardware and software together. We reinvented the home key with a simple gesture: a swipe from the edge of the screen. The experience sets a new bar for how natural technology can feel," said Marko Ahtisaari, Nokia's head of Design. "And this is just the beginning. The details that make the Nokia N9 unique – the industrial design, the all-screen user experience, and the expressive Qt framework for developers – will evolve in future Nokia products."
Innovative all-screen design
With no need for a home key, the all-screen Nokia N9 makes more room for apps to shine. The 3.9-inch AMOLED screen is made from scratch-resistant curved glass. The polycarbonate body enables superior antenna performance. This means better reception, better voice quality and fewer dropped calls.
Camera, maps and multimedia
The 8-megapixel Carl Zeiss autofocus sensor, wide-angle lens, HD-quality video capture and large lens aperture enable great camera performance even in lowlighting conditions. This makes the Nokia N9 one of the best camera-phones ever produced.
The Nokia N9 features free turn-by-turn drive and walk navigation with voice guidance in Maps. With the new dedicated Drive app, you can get in your car and start navigating to your destination right away.
You can watch videos in true 16:9 widescreen format. And because the Nokia N9 is also the world's first smartphone with Dolby® Digital Plus decoding and Dolby Headphone post-processing technology, you get a surround sound experience with any set of headphones.
Touch just got better
Fitted with the latest in wireless technology, Near Field Communication (NFC), the Nokia N9 allows you to easily share images and videos between devices by touching them together.  Pair it with Bluetooth accessories like the new NFC-enabled Nokia Play 360° wireless music speaker only once, and you get a great surround sound music experience with just a tap.
Colors and Memory
The Nokia N9 will be available in three colors – black, cyan, and magenta with storage options to accommodate plenty of content: 16GB and 64GB. The Nokia N9 is scheduled to be in stores later this year, with availability and local pricing to be announced closer to the sales start.
About Nokia
Nokia is committed to connecting people to what matters to them by combining advanced mobile technology with personalized services. More than 1.3 billion people connect to one another with a Nokia, from our most affordable voice-optimized mobile phones to advanced Internet-connected smartphones sold in virtually every market in the world. Through Ovi (www.ovi.com), people also enjoy access to maps and navigation on mobile, a rapidly expanding applications store, a growing catalog of digital music, free email and more. Nokia's NAVTEQ is a leader in comprehensive digital mapping and navigation services, and Nokia Siemens Networks is one of the leading providers of telecommunications infrastructure hardware, software and professional services globally.