In case you missed the memo, Africa is rising. Having been largely ignored in the development of the Internet, things have been changing rapidly in the past decade with telecommunication companies forming alliances with financial institutions to bring serious data connectivity into Africa, and with it, lots of potential for prosperity. You can thus understand my excitement each time a new submarine cable is announced.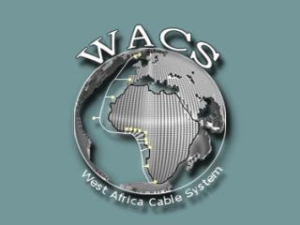 West Africa Cable System (WACS) is the latest and biggest submarine cable to connect Africa to the world, and the world to Africa, through the Internet. The cable has been laid from United Kingdom to South Africa, branching at several African countries along the way. Though the end of the cable landed in South Africa in April 2011, it is expected to be operational in the 3rd quarter of 2011 with full commercial service expected in the second quarter of 2012.
Being constructed by Alcatel-Lucent, the cable is 14,000 km in length, linking from Yzerfontein in South Africa to London in the United Kingdom. It has 15 terminal stations along the western coast of Africa. The total cost for the cable system is $600 million. MTN Group has invested $90 million in the cable making it the largest investor, and in return will receive 11% of the initial capacity of the cable. MTN Group is a South Africa-based multinational mobile telecommunications company, operating in 24 African and Middle Eastern countries.
The cable is expected to land in the following countries (countries with MTN presence are marked *):
South Africa*
Namibia
Angola
Democratic Republic of Congo
Republic of Congo*
Cameroon*
Nigeria*
Togo
Ghana*
Côte d'Ivoire*
Cape Verde
Canary Islands
Portugal
United Kingdom
Though within reach of other pan-African submarine cables, Namibia, the DRC, the Republic of Congo and Togo would gain access to their first direct connections to the global submarine cable network, via WACS.
WACS was initially designed with a capacity of 3.84 Tbit/s but this was later upgraded to 5.12 Tbit/s, making it the submarine cable with the biggest capacity into Africa at the time it goes live. WACS is also significant because it branches at Portugal before terminating in the UK. Glo-1 (the most connected of them) branches into Spain and Portugal before terminating in the UK. SAT3 terminates in Spain and Portugal while MainOne terminates in Portugal. For comparative analysis, I have listed some other African submarine cables and their respective capacities:
EASSy: 4.72 Tb/s
GLO-1: 2.5 Tb/s
MainOne: 1.92 Tb/s
Seacom: 1.28 Tb/s
TEAMs: 1.28 Tb/s
SAT3: 120 Gb/s
*ACE is expected in 2012, with an installed 5.12 Tb/s capacity.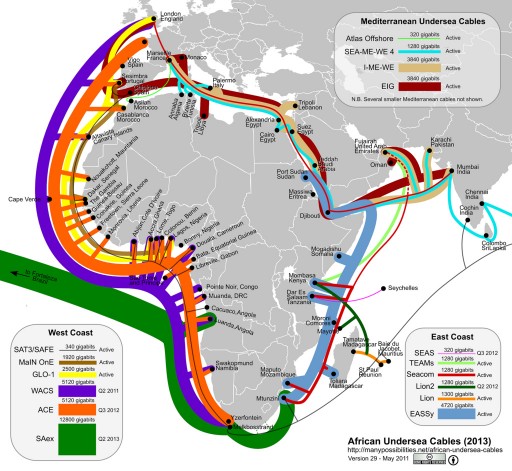 The WACS consortium members and landing parties are:
Neotel: South Africa's second fixed line operator
Telkom SA: South Africa's incumbent fixed line operator
MTN Group: a South African based regional mobile operator
Vodacom: a South African based regional mobile operator
Gateway Communications: a leading pan-African wholesale connectivity and telecommunications provider
Broadband Infraco: a South African state-owned telecom infrastructure company
Angola Telecom: leading Angolan telecom operator
Cable & Wireless (London UK point-of-presence)
Telecom Namibia: leading Namibian telecom operator
Portugal Telecom: leading Portugese telecom operator
Sotelco: telecom operator in Congo Brazzaville
Tata Communications: owns majority stake in Neotel and is also a landing party for WACS in Portugal and the UK.
Togo Telecom: leading Togolese telecom operator
MTN Group seems to be the most excited since WACS would enable it connect some of its operations in West and Central Africa directly to the world. Before now, MTN has been leasing data capacity on the other cables.
Though prices of broadband to end users in West Africa have not been falling as radically as one would have expected, there is hope that the launch of WACS would affect the market forces: consumers would have access to bigger internet bandwidth at much lower prices than are currently obtainable.