I have stayed away from commenting on this charade called Re-Branding Nigeria but now forced to share my candid thoughts as a result of what I just noticed on the web as being the official website of the Re-branding Nigeria campaign. Someone posting under the alias olush0la supposedly in Lagos Nigeria shared the link to the website via Nairaland.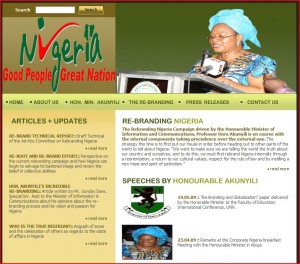 The supposed official website is at nigeriarebrands.com "Supposed" because a friend suggested that the website might be fake after all. He couldn't come to terms with the point that it could indeed be an official website of the Nigerian government. I wished he was right. With precedents like nigeria.gov.ng however, I have no doubt that nigeriarebrands.com is official.
Before I descend into why I believe the website is technically a joke, I would state that the whole idea behind re-branding Nigeria is fundamentally flawed. What is there to re-brand anyway?
there are incessant power outages across the nation, daily
most roads are very bad with gaping holes even on highways
most urban areas have dilapidated infrastructure and rural areas are still in the stone age
internet access is slow and unreliable for most people
security is none-existent: the very unfriendly police are busy extorting money from travellers on the highways while armed-robbers are having a field day; ransom kidnapping is now on the rise across the country
a nation blessed with much crude oil imports finished petroleum products because its oil refineries are in comma
petrol is in short supply at this time and average people are suffering
education gets a low priority from the various tiers of government
corruption is entrenched, institutionalized and now a way of life
a certain political party parading itself as the biggest political party in Africa is holding Nigerians to ransom with its criminal electoral stunts
the Nigerian economy is at the verge of collapse
a long list of other pressing problems that this little space would not allow me to list
Despite the numerous pressing problems facing the nation at this time, the federal government still had the courage to unleash the re-branding charade on Nigerians. Is this another excuse to siphon scarce resources? Why doesn't the government fix the nation instead of this re-branding joke? How does one re-brand mediocrity? Did Nigerians vote President Umaru Musa Yar'Adua into office for the purpose of Re-branding? This is another classic case of misplaced priorities.
According to ironpaper.com,
The campaign slogan "Nigeria, Good People, Great Nation" was spearheaded by Nigeria's Minister of Information, Dora Akunyili. This slogan will replace Nigeria's last and unsuccessful campaign "Nigeria, Heart of Africa". The last rebranding campaign cost Nigeria 5.6 million dollars and critics state that little good came of it. The current campaign will have a budget cap of 1 million public funds and the rest will come from the private sector and individual donors. Some proponents of the campaign believe that it will help build support and energy within the Nigerian community to focus on and solve the country's problems of lack of infrastructure, focused and effective leadership, and free/fair elections. Proponents say that the campaign helps invest pride and a sense of purpose for Nigerians wishing to get their country back on track.
Back to nigeriarebrands.com
If I was told that the web designer did that for free, I would clap and praise his/her patriotism but if he/she got paid for this thing, then this is a case of financial loss to the state. I got a hint that the website cost the government N950,000 (about $6,333.33) plus an additional N300,000 (about $2,000) every year. If it was indeed true that the government paid that much for this website, then God help Nigeria. I'd explain:
The website is static and does not include any element of interactivity: No discussion forums, no link with any social networks, no comments section for readers to share their opinion and exchange ideas.
The search feature is for cosmetic purposes only, it doesn't work.
I expect a website like this to have room for loads of content now and in future and therefore should be database-driven but unfortunately, its pages are good old HTML. It means the webmaster has to code individual pages manually. This causes a lot of maintenance work should the website grow – little wonder the few articles are shared in downloadable Microsoft Word formats.
The webmaster obviously has some skills with setting-up  static webpages but those skills are far from adequate  for a big project like this. There is something called CSS. It makes websites look very appealing, when utilized properly. There is no place for this old-fashioned design in the scheme of things.
The Information Minister's cropped image is prominently displayed on all pages. Is there a reason why that space cannot be used to feature different breath-taking images of Nigeria and its great people? Okay. The Minister is a Nigerian too but her image on ALL pages is too patronizing. There are millions of exciting photos of Nigeria that could have been used to spice-up the propaganda but none is used.
Multimedia? Zero. There are no video clips, audio clips, photo gallery etc to aid in projecting a positive image of Nigeria. Video could have been used to feature great personalities and average Nigerians swearing their love for the Federal Republic and encouraging others to do same.
One would expect The Re-Branding web page (http://www.nigeriarebrands.com/rebrand.html) to make a case for their activities but unfortunately, the page is empty.
It professes to re-brand Nigeria but does not use a .ng domain name.
What is my idea of a modern & effective website? There are millions of them online today but www.whitehouse.gov stands out. It not only contains elements of Web 2.0 but is visually-appealing and works perfectly. Do you think whitehouse.gov is a far-fetched example? Think again. What other way to get better than comparing yourself with the best of the world?
Are there competent Nigerians who can put together a world-class website? Yes there are! Examples are all over the web. I entreat you Dear reader, to share some of them in your comments.
In summary, this re-branding effort is simply putting the cart before the horse. What the Federal government should get busy doing is fixing the nation. When all is well with Nigeria, the world would know. We would not have to spend hundreds of millions of Naira for the world to see that things have changed for the better. Investors would stream in to set-up business and tourists would come through on their own volition, eager to experience the breath-taking sights and sounds of Nigeria. The world is watching. These are my random thoughts as of now.
What are your thoughts? Share your comments here and now.