Airtel, Ghana's second national operator announced an upgrade of its cellular network to a newer/faster mobile broadband technology called 3.75G earlier this week. 3.75G, otherwise known as HSPA+, is the latest iteration of the 3G mobile broadband technology.
The launch makes Airtel the pioneer of 3.75G in Ghana, and the fastest mobile broadband service in Ghana presently. Airtel is promising a maximum theoretical download speed of 21Mbps. Its other (GSM) competitors MTN, Tigo and Vodafone currently run HSDPA cellular networks offering download speeds ranging between 7.2Mbps and 14.4Mbps.
I am yet to experience Airtel's 21Mbps promise. A screenshot of my best speed test result using a Samsung Galaxy S II smartphone is below: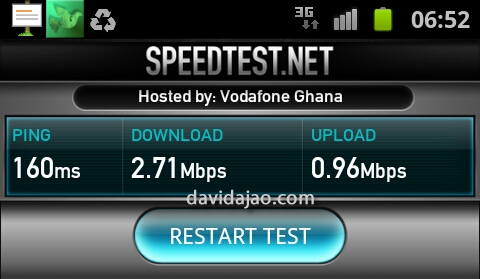 It is possible that many of their cell sites are not upgraded to 3.75G yet.
It is noteworthy that Airtel launched a 3.5G network from their début. Their arch-rival MTN upgraded to 3.5G soon after and an aggressive broadband competition soon followed. Also, I am inclined to believe the timing of Airtel's 3.75G launch is to preëmpt Glo Mobile's launch. Glo Mobile launches in less than a month from now and one would expect Glo to launch with the very latest mobile broadband technology follow their many promises to offer a world-class network from day 1.